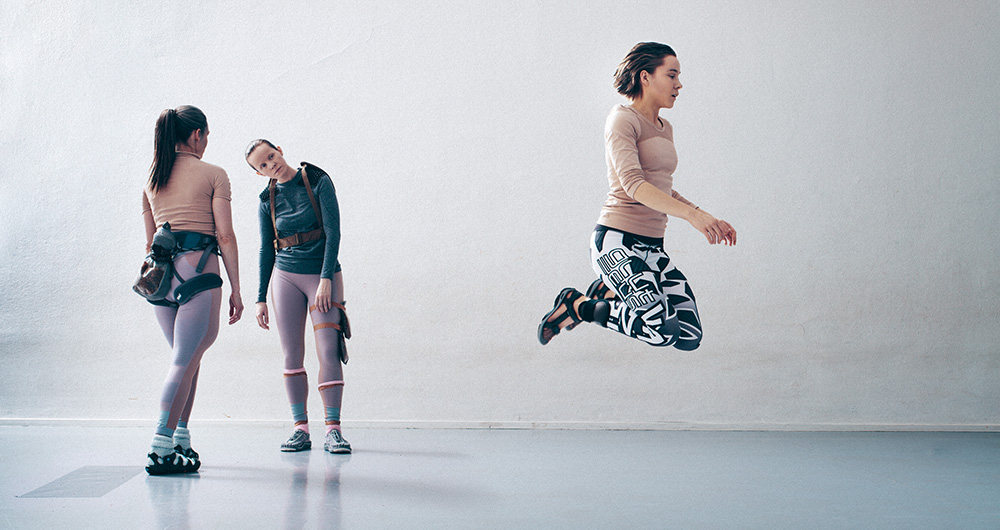 Photo: Anders Lindén
Jump with me!
Jump with me! is about three characters that only exists through the jump. Their bodies and manners are sculpted by the jump. Their songs are sung through jumping. In short –the jump is their lifeline.
The jump is a simple movement in its elementary form. It is a movement everyone can relate to and most of us have a relation to; not everyone can jump but everyone knows what a jump is. Jump with me! started from this simplicity of the nature of the jump. With a set of regulations on rhythm and imagination a practice was built which formed the ground from where proximity, negotiation and loneliness appeared.
With Jump with me! the attempt is to distance relations from their habitual representation, to extract relations from their usual actions and doings. It is an aspiration to use the simplicity and activity of the jump in order to see how the relations can be built and come to expression.
Jump with me! premiered March 12th 2016 at Weld in Stockholm and was thereafter shown at Sophiensaele in Berlin, Serious Series Festival Berlin, Köttinspektionen Dans Uppsala, Inkonst Malmö.
Photos by Anders Lindén.
Concept & Choreography
Developed with and performed by
Costume
Musical Composition
Light
Illustration
Publication Design
Administration
Premiere
Rosalind Goldberg
Salka Ardal Rosengren
Anne-Mareike Hess
Tove Salmgren
Anna Uddenberg
Daniel Glatzel
Sandra Blatterer
Emma Åkerman
Jonas Williamsson
Interim Kultur and Rosalind Goldberg
March 12th 2016, Weld Stockholm
Supported by the Swedish Arts Council and the Arts Council Norway.
Co-produced by Weld in Stockholm.